There are so many complication that are seen in most people post COVID.
Anosmia (loss of smell)
Fatigue/Tiredness
Agues (loss of taste)
Dyspnoea (laboured breathing)
Sleeping disorder
Headache
Palpitation
Black Fungus
Concentration impairment
Muscle or joint pain
Memory impairment
Dizziness on standing
Chest pain and Cough
Depression or anxiety
Difficulty in breathing or shortness of breath
Vertigo
In post COVID management, Ayurveda and panchakarma therapies are very effective & helpful.
Ayurveda has proven as a blessing in the current pandemic through Ayurveda greatly works in all life disorders but now it also gives result in such kind of Ayurveda helps in a way; it corrects' Prakopit doshas' which are imbalanced due to infection. 'Agni' tatva which represents appetite in our body first of all that is corrected because unless and until the digestion is corrected the body can't be nourished with only a good diet. In breathing problems i.e. " Swas" in COVID patient "Vayu" tatva i.e. Vata has corrected through internal Ayurveda supplement and various Punchkarma therapies like- Snehanam- with medicated Lavana and herbs helps to come out of it. Loss of taste and weakness both are due to affected "Kapha doshas" as the Kapha is also called "Bala". In Ayurvedic terminology that means it gives strength to the body. To correct the post-COVID complication we need to take Panchkarma therapies strengthening and rejuvenate the tissue level.
Through ayurvedic supplements like- "Aarogya Vardhine kit" that includes Nasa Oil, prevent the nasal track from getting dried and prevent
Ayurveda Rashayna Booster to reduce viral load and to prevent further complications due to lung Swashaa Chintamani that helps out in supporting lung care and also helpful in respiratory problem. Good health and immunity of "Nasopharanzeal track and tonsils' can be very helpful in managing post COVID symptoms as the very first sight of infection start from there. In such a condition Ayurvedic supplements like- "Shwasamrut kashaya" help out and get rid of infection involved in those sights and improve their immunity.
Naturopathy, Acupressure, Yoga, and Meditation & Diet contributes equally in post COVID management.
Our research analyst has proven that those who have had a better immune system can avoid this For those who pursue yoga and meditation regularly, the chance is quite low as yoga and meditation channel the mental and emotional activates into restful harmonious vibration. Many yogasana help to increase oxygenation and lung capacity and balance the nervous system. Promote deep breathing also helpful in cough, cold, and asthma.
Naturopathy acts by diluting and absorbing the toxic substance of the body and eliminating them from the It increases membrane electrical conductance, absorption phenomena, hyperaemia and activation of the hydroponic glands, enzymes and hormones. Increase blood circulation, functional the efficiency of the nasal mucosa. Stimulate the activity of vasomotor centres and active dilatation and function of the vessels of the lungs. Diet is our first medicine. We should take a fresh vegetable, fruits, sprouts, coconut water and many micronutrients like Vitamin C, E, D etc. have a major role to play in optimizing the host immune system.
Panchakarma & Naturopathy therapy are essential for post-Covid 19 recoveries
Generally, all these therapies are needed a minimum of 7 days (Panchakarma, Naturopathy, acupressure, Pranayama, meditation, yoga and diet-as per body constitution & condition) to reduce the side effects of all types of steroid, antibiotics, anti-allergic from the patient's body, Efforts are made to improve and strengthen in his/ her disease resistance, metabolic capacity, digestive capacity, health ability and ideological
Days are depend based on the post – Covid 19 condition of every individu
Post Covid 19 Syndrome Management depends on the resistance of any person's body, medical condition, diet, thoughts etc. But depending on the study done so far, it takes 2 to 6 months, or even more. Sometimes it is also seen that the problem has turned into another disease.
Post covid recovery program at Sri Vaidya
We have three kind of facilities: 
Online:-
For online first we will conduct online consultation with our expert doctors to understand the complete medical condition of patient after that we prepare a "Home Care Post Covid Care Recovery Kit".
Our representative will guide you how to use that kit Yoga and acupressure session will be conducted online.
For panchkarma therapy and naturopathy you should practice at your home with the help of family member
For any inconvenience we will help you at any time.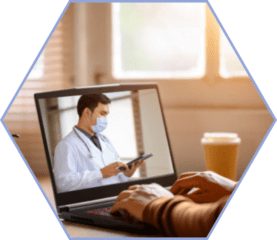 Day care:-
In day care program first we will conduct online consultation with our doctors and provide you the internal ayurveda supplement
Yoga and acupressure session will be conducted online
For naturopathy & panchkarma therapy you should come at our hospital on daily basis for few days
IPD:–
It is required only for critical condition. We have 12 bedded admission
facility in our hospital. Now a days, we are using that only for post covid patients, those who have critical condition and not able to perform yoga, naturopathy and panchkarma at home.
I had a wonderful experience in this hospital. I went there for post covid recovery as I had a lot of weakness in my body along with body pain which was not going even after taking medicines. They did their therapy, massage and all that for 6 days and now I am feeling very energetic. All my body pain is like vanished. I had a great experience there. Wonderful Sri Vaidya team you did a excellent job. I will highly recommend this hospital. Thanks a ton guys.
Vijay Kumar
Sharing my views about my life tough time.I got tested covid positive on 25 Apr 21. I isolated myself for 14 days and then my reports came negative. But after that i started feeling complications e.g Excessive Body Pain, Weakness even after some walking facing Breathing issue, Sleeplessness. My Friend recommended Sri Vaidya for Post recovery program. Immediately i contacted them, after consultation doctor recommended me 7 days admission. I got admitted They prepared complete routine like morning Online Yoga & Meditation class, Proper diet timely, Naturopathy therapy (Acupressure), Ayurvedic Medicine & Ayurvedic Therapy ( Potli and shirodhara). And after 4 days only i am feeling like i restored my previous energy Special thanks sri vaidya team for caring so much. Highly recommended this post covid recovery treatment from my side you should try ..... Keep it up 👍
kartikpinto